AgriSafe Learning

AgriSafe offers 1 hour Continuing Nursing Education credits. After completing the course, participants will immediately have access to their certificate of completion. These trainings are for Registered Nurses and Nurse Practitioners who practice in settings and encounter patients and communities engaged in farming, ranching and other agriculture-related occupations and are in need of current, evidenced-based knowledge and deeper understanding of the mental health threats inherent in agrarian culture. The goal of these mental health CNE offerings is to increase the participant's knowledge base and confidence with patient and community interactions regarding inherent risks and stressors that contribute to mental distress syndromes, access to care and resources and suicide risks in agricultural communities.
On Demand Webinars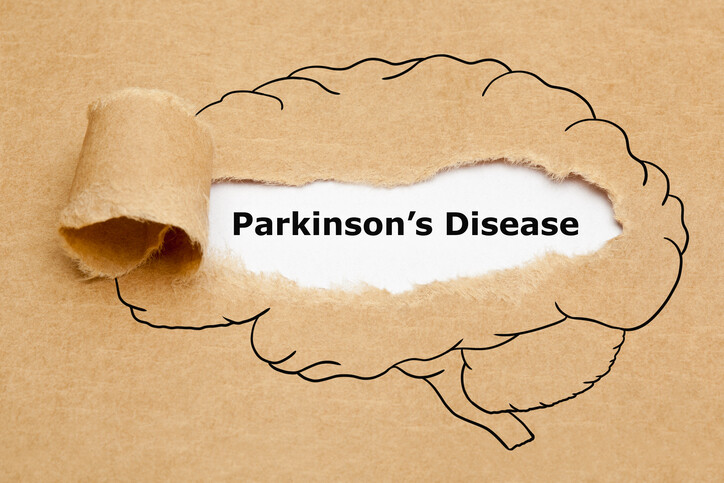 Aging and Parkinson's Disease in Agriculture- Continuing Education Available for Multiple Disciplines (April 13, 2021)
Parkinson's disease impacts over one million people living in the United States. People living in rural areas may not have access to specialists and getting diagnosis may be difficult. Rural health care providers and agricultural professionals need to develop an awareness of this neurodegenerative disorder and understand the effects on agricultural work. Participants will learn about rural specific resources, safety screening for aspects of agricultural work, tips to maximize farmer functioning, and communication strategies with farm families.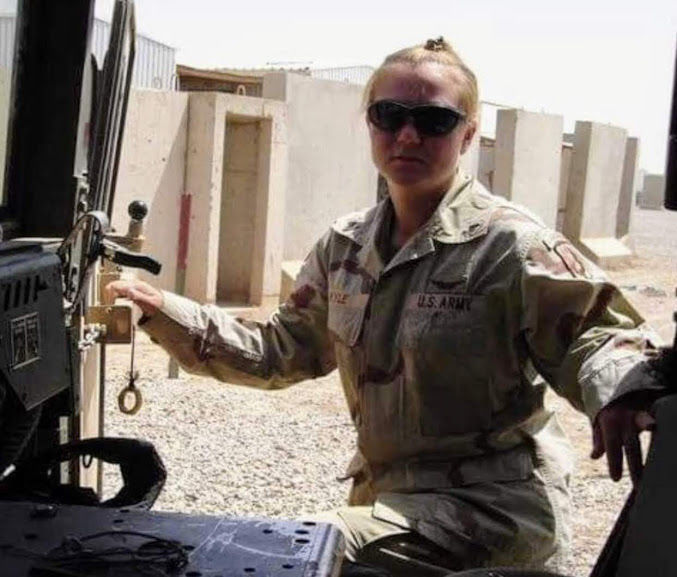 Addressing Military Needs in Agriculture (March 17, 2021)
Veterans have a long history of service to our country through military service and through agriculture. The 2017 USDA report added a new special category of producers: "Producers with Military Service". This report identified that 370,019 men and women agriculture producers claimed the title of US veteran, with 294,974 of them having spent more than 10 years on their farm. Recently much attention has highlighted veterans' participation in farming. With this new attention, it is important to understand the unique characteristics and needs of those veterans
CNE- Mental Health in Farm and Ranch Country: How Communities Can Help!
In rural communities, the stigma associated with mental distress is hard to confront. Rural agricultural residents pride themselves as hard-working and dedicated to the land. These characteristics are sometimes in direct conflict with asking for help and self-care, leaving those around them at a loss for words and action. This presentation attempts to use the strengths of rural- self-reliance of communities and being a good neighbor- to frame the conversation of mental health and mental distress. Approaches to community assessment, community resources, and effective training programs to help rural residents craft solutions to grow a community network of mental health neighbors will be shared.
CNE- Stress and Dairy Farming: Challenging Times in the Dairy Industry Pave the Way for Mental Health Struggles
The dairy industry has been struggling with low milk prices, infrastructure problems, trade issues, and isolation for several years. Small family farms have been going out of business faster than any time in recent history and even milk cooperatives that buy milk from the farms have claimed bankruptcy. At the start of 2020, the end of the four-year milk price nightmare was starting to come to an end and producers saw the light at the end of the tunnel to start digging themselves out of. Then COVID-19 hit. This pandemic rocked the system in an unprecedented and unpredicted way. With this comes intense farm stress, despair, and desperation for many. Understanding how the system works – or doesn't – is important because dairy producers work 24/7/365 to provide our families a safe and nutritious food. The very least we can give them is an attempt to understand and help them when they need it.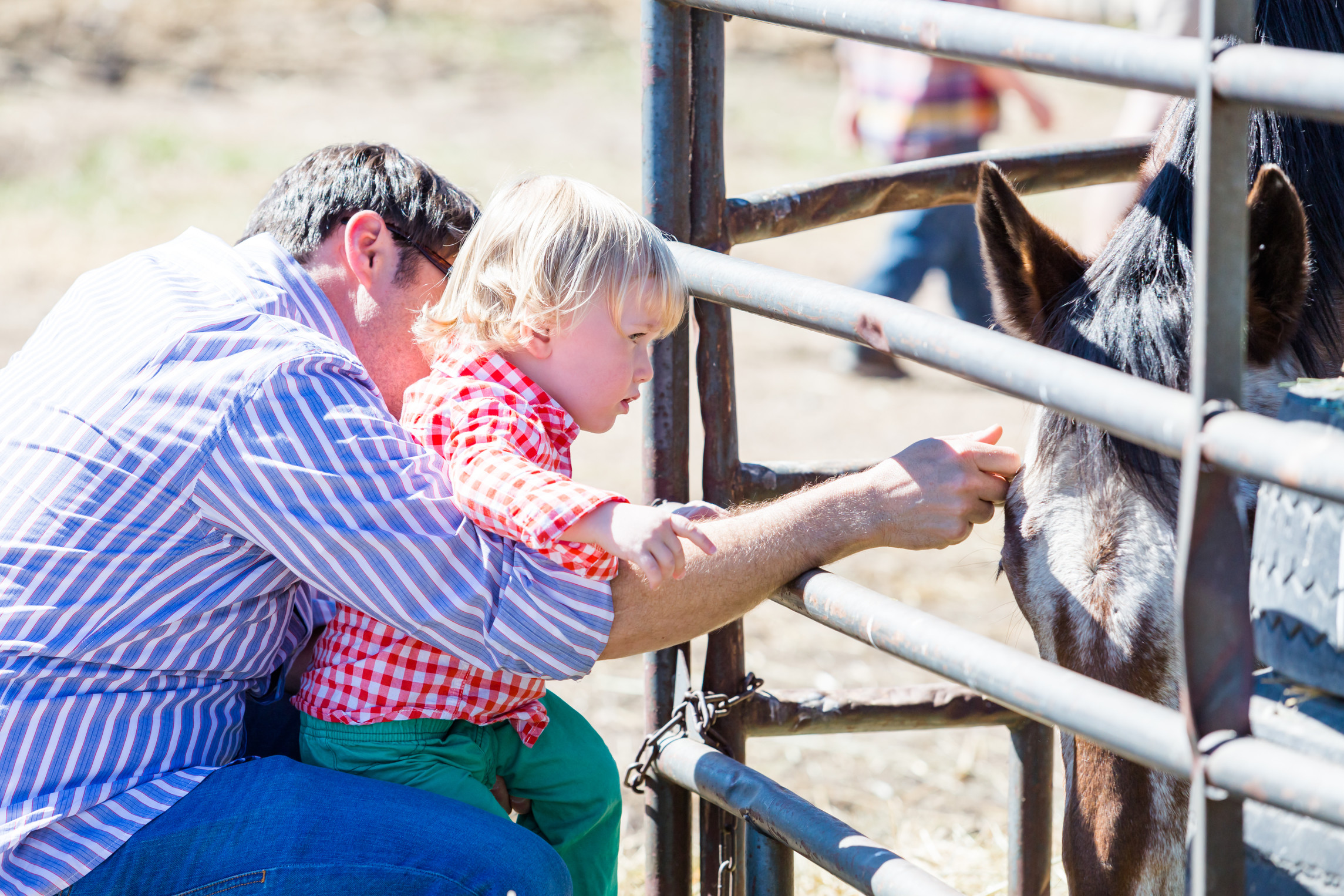 CNE- Providing Culturally Competent Care for Farmers and Farm Families, With Emphasis on Mental Well-Being
Alarming rates of suicide among production farmers have prompted public health officials to increase the awareness and cultural understanding of providing wholistic care for those in rural agricultural areas. Unique aspects of farm life and farming can contribute to higher levels of depressive symptoms and increased stress. Higher levels of depression, in addition to suicide, can also increase a farmer's risk of injury and development of chronic disease, impacting overall quality of life. The agrarian culture is one of strong work ethic, self-sufficiency, conservative views, and adherence to gender roles, which can make discussion of mental well-being distinctly different from clients who are not from the agrarian culture. The training module will seek to provide insight on the aspects of providing healthcare for farmers and farm families as it relates to the culture and occupational aspects of farming and farm life. Objectives: By the end of the webinar, participants will be able to: Have a greater understanding of the agrarian culture. Apply key concepts of the culture when proving healthcare for farmers and farm families. Identify barriers of seeking mental wellness in a rural, agricultural community
Continuing Nursing Education Information​
Continuing Nursing Education Information

Faculty and planners of this educational activity have disclosed that they have NO conflicts of interests related to this program.
There will be NO discussion of off-label use of products for purposes other than what was approved by the FDA.
This program has NO commercial support
To receive the 1.0 contact hours, you must watch the entire program, complete and pass the post-test, complete the post-program evaluation.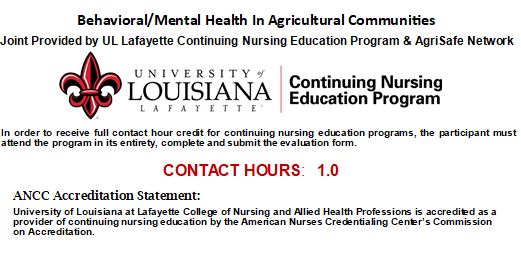 Resources
Resources related to mental and behavioral health.
Seasons Change, You Remain Social Media Toolkit

This Mental Health Resources social media toolkit serves the following goals: (1) create a cohesive, clear, understandable message promoting mental health topics and resources for AFF workers during the various seasons (2) increase engagement on farm safety and health social media platforms (3) disseminate resources about mental health for AFF workers

QPR Training

Interested in hosting a QPR training? If so, checkout this flyer for more information!

Parkinson's Disease- Practical Workplace Adaptions

This is a guide containing practical workplace adaptions for individuals living with Parkinson's Disease.

Mental Health and Its Impact on Farm Families

A resource to be shared with everyone involved in agriculture focusing on mental health.

Suicide Prevention: Facts and Resources (SAMHSA)

Resource from SAMHSA

Person First Language

Person first language is a way of speaking that is emphasizes a person's wholeness, while maintaining respect for an illness, condition, or experience. This is a guide on how to use person first language in reference to mental health.

SAMHSA- Dealing with Anxiety About Infectious Disease

Coping With Stress During Infectious Disease Outbreaks

Throttle Back on Stress

Throttle Back on Stress flyer

Tips and Tricks for Better Sleep

Tips for better sleep

Salud Mental y el Impacto en el Bienestar de las Familias de Agricultores (Mental Health Resource)

Muchos de los factores que afectan la producción agrícola están más allá del control del productor. La buena salud, incluida la salud mental, es un factor clave que contribuye a la capacidad de seguir cultivando.
Funded through the generous support of:
| | | |
| --- | --- | --- |
| | | Federal Office of Rural Health Policy |
| Access Date | Quiz Result | Score | Actions |
| --- | --- | --- | --- |
All Access Pass
Get unlimited access to all of AgriSafe's webinars and resources for 12 months! Join AgriSafe today!
Technical Difficulties
We recommend using Google Chrome as your browser. Courses in Elevate require the following systems to operate properly: Windows 7 or later, Mac OS X 10.9 or later, Chrome 60 or greater, Firefox 52 or greater, Edge 14 or greater, Safari 10 or greater, iOS 10 or greater, Internet Explorer 11.